With an eye toward the launch our new 7" Zoro® strap-on, a brief history of dildos, strap-ons and pegging, from 30,000 B.C. to the present.

Above: The most beautiful strap-on ever made, the Perfect Fit Brand Zoro®. Available in 5.5" and 6.5" lengths. Shop for the most comfortable Zoro strap on here.
When author, pleasure activist, and Good Vibes staff sexologist, Dr. Carol Queen released her 1998 hetero how-to video series, "Bend Over Boyfriend: An Adventurous Couple's Guide to Male Anal Pleasure," she had no idea she was tapping into the buttgeist of so many boudoirs. "Who knew there was so much interest?" she said at the time. But indeed, there was (and is). The video was a best-seller and the practice of women penetrating their men with a strap-on came swaggering out of the closet.
Above: Dominatrix Lyra Lethe wearing our Zoro®. See more photos of this on Instagram @lyralethe
In fact, it became so much talked about that, in 2001, the term "pegging" was unofficially coined by sex and relationship advice columnist Dan Savage. A 2021 article on Mic.com titled "A hole new world: An absolute beginner's guide to pegging" states:
First of all, pegging as we know it is not actually gay. But it does have kind of gay roots. The term was suggested by a reader of Dan Savage's Savage Love column in 2001 as a way to describe heterosexual women fucking heterosexual men in the ass. "Boy prostitutes were sometimes called peg boys because they would sit on pegs to keep their assholes open between clients, so I suggest the word 'peg,'" wrote contributor Paris P.
Savage initially brushed off the term, but it stuck around in the Savage Love community and eventually made its way into mainstream usage. Now it's used to describe basically any instance of someone of any gender penetrating someone else in the ass with a dildo.
Above: The Zoro® in black, the original Zoro® in violet, and the clear Zoro® Knight. Shop them all here.
In celebration of the success of our revolutionary one-piece, "hergonomic," molded (no o-ring!) Zoro strap-on, we invite you to take a gander at a brief history of dildos, strap-ons and the depiction of pegging in the media throughout the ages.
Note: This article was inspired by and contains (B.C.) highlights edited from a post on U.K. sex toy retailer blog ThatPosition.com, plus a few more contemporary (A.D.) bits of our own.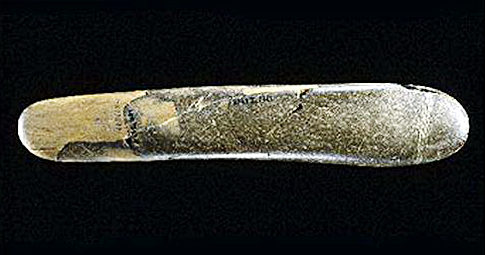 Source: www.worldrecordacademy.com
• The oldest known relic that's believed to be a strap-on is from the Upper Paleolithic Period, 30,000 B.C. Above, a dildo from the same period.
• In ancient Egypt mythology (2500-2200 B.C.) it was believed that the ebb of flow of the Nile River was caused by Atum's (the god of creation) ejaculation, sparking the ritualistic ejaculation of the pharaohs into the Nile River. As the strength of the rain was thought to correlate to the strength of the pharaoh's ejaculation, it's believed that to ensure an abundance of rain, the pharaoh's wife would massage his prostate with a phallus while he sat on her lap and masturbated.
• In the Suburban Baths at Pompeii Italy, a mural has been unearthed which depicts a threesome with female-to-male-to-female anal penetration.
Source: www.wikimedia.org
• Another ancient painting from Athens portrays a female figure dancing, while wearing a strap-on dildo and a tail, before a seated Dionysus.
• 3rd century B.C. Greek poet Herodas describes women going to a cobbler for dildos that were carefully stitched from scarlet leather and are described as being very soft, 'like the real thing'. He also mentions straps but doesn't elaborate on their purpose.
• In the Secret History of Prociopius, Theodra (below), wife of the Emperor Justinian, is depicted as penetrating the "hinder parts" of her male lovers, which takes on a slightly less playful cast when you read that the couple was described as "corrupt, immoral, and just plain evil."
Source: wikimedia.org
• Marcus Valerius Martialis, a Latin poet, portrays Flinene Pedica as a Tribate (lesbian who has sex like a man) who sodomizes the boys more heated than a husband and "fucks eleven girls or boys in a single day."
• A tale vivid tale of strap-on sex was found on papyrus recycled to wrap a mummy was found in Egypt: "She said 'Come hither, I will plug up your tight asshole.' And she beat my egg sack with a sprig of lilac as if I were a satyr. I fell backwards, breathing heavy…"
• The Satyricon of Petronius, describes Emperor Nero Oenothera being fucked by a woman wielding a leather dildo which, "when she had smeared it with oil, ground pepper, and pounded nettle seed, she commenced to force, little by little, up my anus."
Source, www.beforeitsnews.com, pinimg.com
• Strap-ons were common in ancient Greek Theater where male-only casts would wear gigantic phallus attached to their waists in satyr-plays.
Source: www.erotic-red.com, China Hub
Also Read: BIG DICK ENERGY: EXPLAINED
• Archeologists have also found an Asian double dildo carved from jade dates that dates back to the 10th–13th century as well as a Japanese wooden strap-on dildo.
Source: www.commons.wikimedia.org
• In the Middle Ages, as prescribed in a church "penitential" (a book that prescribes punishments for sins), women guilty of masturbation with a dildo were to "do penance for five years on legitimate holy days." In the 1690's dildos could be bought openly in shops in London.
• The Marquis de Sade describes a pegging act in his 1795 book "Philosophy in the Bedroom."
Source: www.wikipedia.org
• Early 1800's Japanese shunga illustrations were gleefully pornographic, portraying a dizzying variety of positions, including one involving two women and a strap-on. 

Source: www.theseductionofvenus.blogspot.com
• The dildo used in the pegging scene in William S. Burroughs 1959 novel "Naked Lunch" is called a "Steely Dan III," and is the source from which the musical group Steely Dan took its name. Funnily enough, the band had a hit with the single "Peg," back in 1977.
Source: YouTube
• In the 1970 film version of Gore Vidal's satirical 1968 novel "Myra Breckinridge" (20th Century Fox) the title character–a transexual played by Raquel Welch–enthusiastically pegs aspiring actor Rusty Godowski with an apparently rather large strap-on. At about 1:10:00 in the video.
Source: YouTube
• Pegging popped-up in the "Crush Girl Love Panic" (2006) episode of U.S. television show "Weeds".
• In the 2007 pilot episode of Dirt, Lucy Spiller (Courteney Cox) blackmails basketball superstar and "family man" Prince Tyreese after entrapping him with photos of him being pegged by a prostitute.
• The September 2007 film "YPF" ("Young People Fucking") features a storyline in which a couple, who feel their lovemaking has become boring over time, attempt to spice up their sex by trying pegging.
• The theatre company Pack of Others' show, "Peg-Ass-Us," devoted to "spreading the word about the pleasures of prostate stimulation and strap-on sex," toured nationally and won Best Comedy at the 2008 San Francisco Fringe Festival.
Source: YouTube
• The 2008 film, "Zack and Miri Make a Porno," features pegging between characters played by Traci Lords and Ricky Mabe.
• In 2012 Rihanna gleefully stroked a strap-on on stage! Watch the YouTube clip here. And in 2019, a fan Tweeted, "Fellas.... be honest. Would yall let Rihanna peg you? This is a safe space" The tweet caused an uproar on the internet, getting over 22,000 likes and loads of comments. More here.
• In 2014, a Greek man had to get his girlfriend's strap-on surgically removed from his rectum after it got stuck during pegging. The story not only made international headlines, but a video surfaced showing the doctors stopping and laughing mid-way through removing it in order to take photos on their phones.
• The episode "Knockoffs" of TV series "Broad City," in which Abbi Abrams pegs neighbor crush Jeremy Santos, ignited much discussion in the media, such as this commentary on Jezebel.
• A Refinery29 article titled, "We Need To Talk About The Pegging Scene In Deadpool," says, "…seeing a super-macho, hypermasculine leading man like Ryan Reynolds end up on the receiving end of a strap-on dildo will hopefully demonstrate to audiences that it's fun and totally okay to experiment with power dynamics during sex, as long as both partners are willing and consenting adults."
• A 2016 Mic.com post mused, "Is Ariana Grande's "Dangerous Woman" Actually an Ode to Pegging? A Three-Part Analysis."
Source: YouTube
• "I wish more guys would get into pegging…I think if men knew more about what it was like to get fucked, they would be better at fucking," sighed Vogue writer Karley Sciortino, in her recent column, "Breathless: Why (Some) Women Love Strap-Ons," earlier this year.
Curious? Order your Zoro here. Or just click on the drop-down menu above and click "Strap-Ons".
When reposting, please credit Perfect Fit Brand and link back to this post.
#dildo #pegging #perfectfitbrand #sextoys #strapon #straponsex